Understanding Christianity
Understanding Christianity is a resource from the Church of England Education Office and RE Today Services. Its key purpose is to support pupils in developing their understanding of Christianity.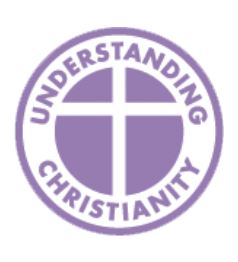 The resource is aimed at both church and non-church schools; it sets the bar for the quality of teaching and learning about Christianity in church schools.
Understanding Christianity offers a spiral model of investigating eight core concepts that tell the 'big story' of Christianity.
The resource pack includes:
A teacher's handbook including background information on the concepts to support teacher confidence
29 full units of work from FS2 to KS3 based on enquiry questions that help pupils explore the eight concepts in a way that deepens knowledge and understanding throughout the key stages
Knowledge building blocks and end-of-phase outcomes to help teachers assess progress and achievement
Over 150 photocopiable resource sheets
The 'Big Frieze' illustration by Emma Yarlett, giving a visual overview of the 'big story' of Christianity
Password access to the Understanding Christianity website, which contains additional support materials.
In order to access the resource, teachers must attend fifteen hours' training spread over 12 months. Recent research evidences that this is the best way of ensuring that professional development is effective and embedded.
For further information about this resource, please see the Understanding Christianity website.