Board of Directors
The Lincoln Diocesan Board of Education is a statutory body governed by
the Diocesan Board of Education Measure
2021
. Its purpose is to support Church School education, including supporting the provision of RE for all pupils across the diocese.
It is an incorporated Board (Articles of Association) and the majority of its directors are elected by the diocesan synod.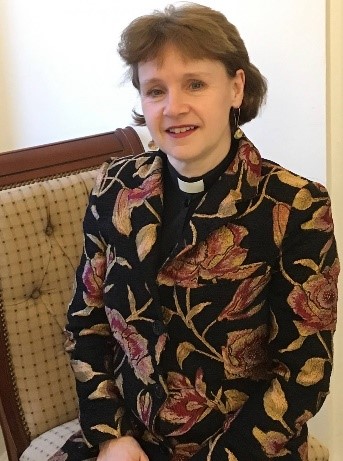 Ven Dr Justine Allain Chapman has been a teacher and a priest for many years. She is part of the Bishop of Lincoln's senior staff carrying the role of Archdeacon of Boston, where is responsible for such things as recruitment and discipline, buildings and safeguarding in the South of the diocese.
Having trained as a secondary school teacher she was head of RE in a multi faith school in North London and later, as the vice principal of the South East Institute for Theological Education, taught people studying on degree courses while they trained for ministry. Justine has served as a foundation governor and on the DBE, led headteacher retreats in recent years and spoken on the subject of resilience in various contexts, a topic on which she has researched and published.
Considering every day a school day, with opportunities to learn, she relaxes by reading detective fiction, trying to grow things in the garden and constantly learning to cook new things as the dietary preferences of her family change and develop.
The present directors are
The Ven Dr Justine Allain Chapman, Chair - Appointed 19th April 2022
Rt Revd Stephen Conway, Ex-officio, as Bishop of Lincoln - from 1st January 2022
| | | | | |
| --- | --- | --- | --- | --- |
| | | | APPOINTED BY | COMMITTEE |
| Adnitt | Michael | Mr | C | F |
| Bacon | Julie | Mrs | S | F |
| Barron | Sonia | Revd | S | L |
| Beverley | Hilary | Dr | S | L |
| Brewster | Paul | Mr | C | F |
| Brown | Nicholas | Revd Canon | N | F |
| Clements | David | Mr | S | F |
| Edwards OBE | Cherry | Mrs | S | L |
| Ely | Sonya | Mrs | C | L |
| Fisher | Nicolete | Canon | N | F |
| Green | Penny | Revd Canon | S | F |
| Kyle | Martin | Mr | C | L |
| Machell | Georgina | Revd | N | L |
| Mann | Frederick | Mr | S | F |
| Robinson | Ian | Canon | N | L |
| Stern | Julian | Prof | C | L |
| Warrick | Alison | Mrs | S | F |
| Whiteoak | Daphne | Dr | C | L |
N - Member nominated by the Bishop of Lincoln
S - Member appointed by the Diocesan Synod
O - Member appointed ex officio
C - Member co-opted by the Board
F - Finance & Administration Committee
L - Learning & Development Committee