ReConnecting Lincolnshire
REConnecting Lincolnshire: Culture, Creativity, Community
To download the education pack and accompanying documents, please click on the links below -
REConnecting Lincolnshire Education Pack (Final)
REConnecting Lincolnshire: Filmed Performance
REConnecting Lincolnshire: Project Overview
Over the last three years, the Diocesan RE Adviser has been working with colleagues around the Diocese of Lincoln to produce a community event that focuses on interfaith integration.
The event responded to some very difficult situations and an awareness that conversations about religions and beliefs—within and beyond the classroom—were becoming more challenging, more fraught, or worse, not happening at all.
The Diocesan Board of Education strongly believes that it is our duty to make sure that the pupils in all schools and academies within the Diocese of Lincoln (i.e. Lincolnshire, North Lincolnshire and North East Lincolnshire) are religiously literate. That doesn't mean that we think they should become religious or join any particular religion; rather, it means that we feel that by the time they leave school, they should be able to hold balanced and well-informed conversations about the religions and beliefs in our society.
But it's bigger than that—we want the same opportunities for our pupils' teachers, for their mums and dads, for their friends and families, for their local community. We maintain that this is one of the key ways in which our communities can live well together, particularly in a time of change, mistrust and misinformation.
REConnecting Lincolnshire: Culture, Creativity, Community started life as a community event in Swineshead, near Boston. We worked with a wonderful creative team to seek funding to produce a bigger series of events that would have a wider impact. The project brings together stories from the Bible and the Qur'an with the aim of helping whole communities better understand the differences and similarities between Christianity and Islam, the two largest faith communities within our region.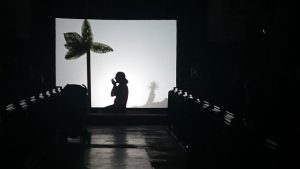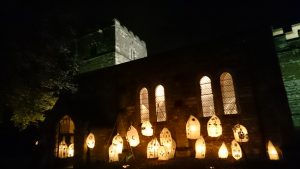 On the 16th, 22nd and 23rd November 2016, we presented three performances that brought together pupils from Scunthorpe Church of England Primary School, Stallingborough Church of England Primary School and Swineshead St Mary's Church of England Primary School with their parents, teachers, members of local faith communities and other local representatives. The performances all took place in local churches (including Grimsby Minster!) and incorporated live action with shadow puppetry, music and film.
Everything included in the performances was produced by the community—props and lanterns were made by parents and local faith groups, music was performed by local choirs, filming took place in mosques, churches and schools, but at the heart of it all were a fabulous group of young people committed to a vision of their community as one that welcomes all and takes the time to get to know and understand everyone.
The performances were incredibly exciting and powerful to watch; it was fantastic to hear so many voices represented in the film elements, as well as having the opportunity to see the faces of all those who had participated both on stage and in the audience.
The basic purpose of these community events was to help support local people of all ages to develop their religious literacy such that they are better able to live well together with those around them. Analysis of the audience and participant feedback indicates that the process has had a real impact on these communities. An education pack that includes elements of the film produced, the music used in the performances and teaching and learning suggestions can be found at the right of this page.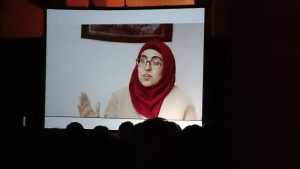 Our huge gratitude goes to:
Leanne Taylor
David Lambert, cultural solutions uk
Emily Bignell, Shooting Fish Theatre Company
Georgina Weller
Ben Glover
Jonathan Nowell
Liz, Lily and Louis
And to all those who funded and supported the project: